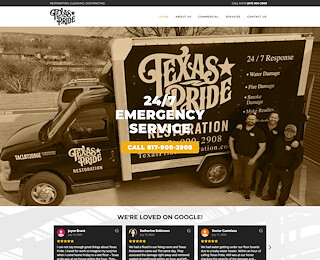 Water leaks and water damages are among the leading causes of damaged walls, ceiling, ductwork, or floors in Fort Worth, TX. At Texas Pride, we specialize in providing water damage restoration services. We are experts in cleaning, drying, and restoring water-damaged areas in residential apartments.
Our trusted experts possess the tools and equipment to handle any size of water damage restoration project, be it big or small. We are the ideal Fort Worth water damage restoration expert you can count on to help provide an immediate and lasting solution to your water damage issues.
What Causes Water Damage?
Water damage happens when excess water begins to pool out in areas where it should not be coming out from.  It can be disheartening when it happens; it leads to further damages within the house as you find yourself repairing or replacing the valuable equipment and materials spoiled by the excess flow of water. It is a major cause of loss of property.
Many factors or circumstances can cause water damage; here are the common causes of water damage:
Plumbing Issues: Problems with the plumbing system is a common cause of water damage. When the water pipes in the bathroom or kitchen got broken or start to leak, they can cause a lot of damage to the home. Are you seeing signs of moisture, rusting, and cracking, some plumbing issues occur within the walls and can be difficult to detect. If not treated quickly, it can cause water damage.
Malfunctioning or Faulty Household Appliances: Washing machines and hot water tanks are the two most common appliances that cause water damage. As these appliances age, their pipes begin to rust, and hose weakens.
HVAC System: The heating, ventilation, and air conditioning units that are not appropriately treated, often cause moisture build-up, and the accumulation of moisture will result in leaking.
Others: Some other causes are bad ceilings, toilet overflow, and natural disasters.
How Much Does It Cost To Repair Water Damage In A House?
Well, water is an essential part of our life. People use water every minute and every hour daily.  But it can also cause tremendous damage to our properties if it flows to where it shouldn't be.
The average cost of repairing water damage in a house goes for $2000 - $3000 if there's not much damage and restoration is not needed. But, if it involves drying out and repairing damages done to all areas, the cost can go up to over $7000.
It is important to know that several factors contribute to the total cost of fixing water damage; the type of water (white, gray, or black), the extent of the damage, the damaged materials, cost of labor, and the size of the affected area.  All these can impact the total cost of repairing water damage in your Fort Worth home.
Contact Us Today!
Are you facing water damage challenges in your Fort Worth home? Contact us today at Texas Pride. Our services are affordable and well-detailed. We are the ideal Fort Worth water damage company you can always count on for quality and excellent services.
Fort Worth Water Damage